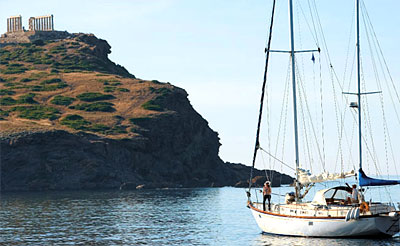 Are you visiting Greece and wish to have a day trip with a yacht? Do you want to cruise the nearby Saronic Gulf Islans in a day or two? Are you a very busy person and wish to spend at most 2 days cruising with a luxury Yacht?
All4yachting.com has the perfect solution. More and more of our customers are renting for just a day or two. This is often the most memorable part of the holiday - swimming at a secluded beach away from the crowds, discovering a seaside restaurant, snorkeling, waterskiing and tubing - all for a fraction of the cost of renting a boat for a week. A day boat also allows you to experience the joy of boating before committing to an entire holiday aboard a boat!
We work directly with operators and owners who are happy to charter their boats by the day as well as providing great service and good prices - so that you can confidently rent a great boat and not worry about it actually being there when you arrive.
TYPES OF DAY CHARTERS
We have literally thousands of boats available for day charter. The main ports where we have boats are in Athens, Volos - Sporades and Lefkas. However we can get you a boat just about anywhere in the world - just contact us if you don't find exactly the boat your require!
LUXURY MEGA YACHTS.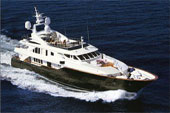 The most relaxed exploration of an amazing cruising area is definitely with a yacht and a professional crew. This way of cruising offers you all safety and comfort available on the sea... You can charter a whole yacht with skipper/crew for you and your friends or family. Your skipper can show you spots which you might not discover cruising on your own.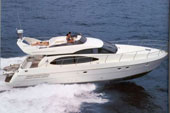 MOTOR YACHTS. Motorboat charter is for those who enjoy the feeling of speed and power (not minding the expenses for the refill). Getting up at lunch time and still reaching your favourite beach when sun is still high is possible, when you are a "power-boater. Passing distances of 20 miles per hour is an easy thing to do. It also allows you to return to the save and comfortable ambience of your marina, if you do not trust the weather staying calm over night. There is a big range of different motor yachts for all kind. It starts with smaller day cruisers of 5 meters up to motor luxury yachts with 30 meters. For our selection of MOTOR YACHTS please click here.
S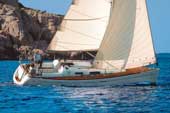 AILING YACHTS. If sailing is your passion, we can also provide you with a beautiful day sailing boat, for the ultimate feeling of freedom. Unfortunately, during high season, it's often hard to charter a sailing yacht for a day - most of them book up for weekly charters months in advance. However our extensive network of providers and the yachts we have under our management will usually give us the option to provide a high standard yacht for your day cruise. Sailing yachts can be hired either with the option of an experienced skipper who will take care of you or as bareboats.
For our selection of SAILING YACHTS please click here.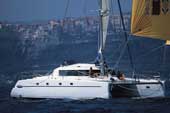 CATAMARANS. A lot of space compared to a monohull allows the crew to "spread" on the boat and have more private space ,especially if you wish to have many people on board. A catamaran rarely heels more than 5 degrees granting a quite flat position on the water, which helps a lot to keep drink and food on the table and allows comfortable sleeping without rolling in the berth. This kind of yacht is usually a perfect solution for large groups of people who wish to enjoy a day cruise to near destinations in comfort, luxury and style.
For our selections of CATAMARANS please click here.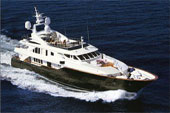 DAY OR NIGHT CORPORATE OR PRIVATE EVENTS If you want to organise your day or night cruise event we can offer spacious and luxurious day cruise vessels. We can organise cruises in the Athens area or further with a variety of services like gourmet meals, live or DJ music and dancing, on - shore activities and many more. We can also offer integrated corporate solutions such us on-board conferences, active learning programmes, and business dinners.

Recomended Day Cruise Areas
You can get a day boat from almost any marina if you want one, but there are several areas that stand out as being superb day charter locations. The Saronic Gulf, of course stands out, with charters between Cape Sounio, Aegina, Poros, Hydra and all the great places in between. See our complete On-Line Tourist Guide for more information.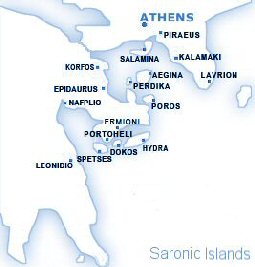 The Saronic Gulf & Argolic Gulf & Peloponesse east coastis the recommended sailing area for those taking their first sailing holiday in Greece or their first bareboat charter after sailing school. The new Athens international airport provides easy access to the charter bases of Alimos (Kalamaki) marina and Lavrion port in Athens.The area has calm waters, requires a little to some sailing competence / experience, offers all kinds of amenities , sightseeing and a good choice between secluded bays and quite coves to adventure, fun, night life and activities corresponding to the style of "organized tourism".
The islands situated in the Saronic Gulf southwest of Athens are among the most beautiful and interesting of all the Greek islands. They are favorites close to one another, usually within a two or three hour sail. Long stretches of sandy beaches, fragrant pine forest, and rocky capes against a backdrop of brilliant sunshine and crystal blue water provide an infinite variety of scenic beauty.
The cultures and people are as varied as the settings, luring visitors with pottery, sponges, pistachios, and almond cakes, which are available at shops and restaurants along the narrow, winding streets of the island towns. There are busy cosmopolitan islands as well as quiet unspoilt secluded islands. The seafood is deliciously fresh and the highlights of this itinerary are the schools of dolphins which will accompany you from island to island, jumping over the bow as you go.!

For more information about Saronic Islands and a complete Online Tourist Guide please click here...

All4yachting.com makes Day Charters Easy!
We take care of everything for you: finding the right boat and skipper, confirming availability, providing maps to the boat and suggesting interesting things to do in the area. But we also understand that you may have some worries associated with hiring a boat. Recognising this, we insist on the following from our day boat charters:
They are all insured by the owner
They all conform to strict marine regulations of their respective countries
Skippers speak English (if you have different requirements, please let us know)
Generally speaking, if the weather is inclement, we will attempt to move the date so that you can still do the charter
We will give you the best price, without "middleman" markups! Going direct will not give you a better price, and in many cases you will get a worse price.
We have literally walked the docks in ports around the world to find you quality boats, from reliable owners, that will give you great value for your money. We'd like to suggest the right boat for you - simply click on one of the buttons below to see the boats or have us suggest one for you, or continue to read on to learn more about day charters!
Save
Save
Κράτα το