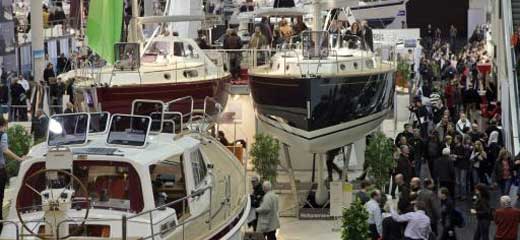 Full steam ahead and plenty of optimism into the 2010 trade fair year: boot Düsseldorf sets a new course and expands its experience concept. Joining in, having fun, experiencing - watersports offer something for everyone. The focus will be much stronger on this experience aspect this January at the world's largest show for maritime sport and lifestyle.
360° watersports live: the motto says it all
Full steam ahead and plenty of optimism into the 2010 trade fair year: boot Düsseldorf sets a new course and expands its experience concept. Joining in, having fun, experiencing - watersports offer something for everyone. The focus will be much stronger on this experience aspect this January at the world's largest show for maritime sport and lifestyle. Try diving at the Diving Show in Hall 3, practise stand-up paddling in the action pool at Beach World, set out for new shores in the Blue Holiday World, or meet the stars of the sailing and surfing scene. boot Düsseldorf makes it possible!
International variety: 1,550 exhibitors from over 50 countries
From 23 to 31 January 2010, 1,550 exhibitors from over 50 countries will showcase the entire world of watersports over 17 trade fair halls on 213,000 square metres and whet your appetite for summer, sun, beach, and sea. The products on offer range from fishhooks to large yachts. Some 550 participants are coming from abroad and have reserved almost half of the exhibition space. The largest exhibitor countries are the Netherlands with 100 boatyards, suppliers, and service providers, followed by Italy, France, and Great Britain. Joint presentations are expected from Croatia and Norway.
Even in difficult times: the usual extensive office
"We are pleased to be able to offer the usual extensive overview of the world of yachting and the watersports markets, in terms of internationality and range of offers, here in Düsseldorf in 2010, in spite of the very difficult economic conditions. The industry's major brands, boatyards, and manufacturers have signed on and thus fully confirmed the role of boot Düsseldorf as an internationally leading marketplace for the industry," says Werner Matthias Dornscheidt, CEO of the Messe Düsseldorf executive board.
But not even a leading marketplace can escape the critical developments in the global market. "We are on a good heading. Nevertheless, the global economic conditions are having some effect on boot. Smaller trade fair budgets lead to reduced booth sizes. Only in a few cases have customers decided to do without a trade fair appearance in 2010," summarises Goetz-Ulf Jungmichel, Director of boot Düsseldorf.
boot benefits from the variety of products on offer, dealing with every form of watersport. Alongside the boat and yacht business, which is weaker due to structure and economy, are stable and even growing areas, such as diving, water tourism and charters, and especially the strong equipment market.
From brand new to classic: 1,700 boats and yachts
Yachts and boats of every size, from brand new models to classics to models and plans for superyacht projects, will be displayed at boot by 450 exhibitors in eight trade fair halls over approximately 100,000 square metres, making up half of the total exhibition area. 1,700 boats and yachts are waiting for boating and yachting enthusiasts.
Once again, there will be a well-assorted showcase of sailing exhibitions in Halls 16 and 17, and a wide range of small and mid-sized motorboats and steel yachts.
Difficult: yachts in the luxury segment
Things are difficult currently for the luxury segment. Strong declines in sales and restructurings at leading boatyards and corporate groups have led to significant budget cuts and thus a reduction of the exhibition spaces and model selection. Some 40 large yachts will be presented in trade fair Hall 6 this coming January.
Düsseldorf's Superyacht Show in Hall 7, on the other hand, has proven to be largely stable. Some 150 exhibitors will gather there with yacht plans, models, and services for this very exclusive segment, including four joint participations, Deutsche Yachten – German Yachting Pool, a display from the Fédération Industrie Nautique, AMIA – Arab Marine Industry Association, and the HISWA Holland Yachting Group. This year the Superyacht Club is located in the large yacht Hall 6.
Pleasantly strong: equipment and accessories
The development for boat equipment, boat instruments, engines, accessories, and watersport clothing is characterised by a large demand for booth space and 80 new exhibitors. In Halls 10 and 12, 400 exhibitors will present a high-quality range of products for and related to boats.
Undisputed: boot remains number 1 for diving
With 320 exhibitors, Düsseldorf's offer for diving fans in Hall 3 is and remains the world's largest consumer show in the trade fair market. Diving areas and diving bases around the world, from Asia to the Mediterranean, to the South Seas, diving clothing, training, innovations, and underwater photography and film: boot Düsseldorf offer all of that in one hall with 20,000 square metres of exhibition space.
In good shape: maritime travel market
The maritime travel market is in good shape at boot 2010. Anyone who is looking for the right destination for their next marine holiday, would like to charter a boat or start training should take a look at Halls 13 and 14, where 350 exhibitors present maritime services.
Building on our strengths: 360° watersports live
boot Düsseldorf 2010 offers 14 worlds of experience and theme parks under their new motto '360° watersports live' - a new record in the history of the trade fair. "We are deliberately expanding the offer of watersports activities in the halls, entertaining information and consultation and opportunities to meet stars and top athletes. We want to make the entire range of watersports experienceable and encourage enthusiasm for them," says Goetz-Ulf Jungmichel, explaining the concept. "Particularly in economically difficult times, it is important to win over new target groups such as young families to maritime sport, and also to give new impulses and ideas to our regular visitors."
Expanded offer: trend sports
The offer of trendy sports, particularly oriented toward a young audience, has been significantly expanded and is located in Halls 1 and 2. In Beach World, stand-up paddling, winch waking and skimboarding will be on display alongside kiteboarding, surfing, wakeboarding, and water-skiing. The highlight in Hall 1 is a new action pool, where these sports can be tried. In the neighbouring Hall 2, manufacturers and dealers will present the latest material and current beach fashions.
Participation desired: trial diving
The Diving Centre in Hall 3, with its popular stage show and trademark glass diving tower, is also growing. A second diving pool invites visitors to try diving.
The attractions in the Angling Centre in Hall 12 include a gigantic show aquarium for bait presentations.
New addition: world of paddling
The World of Paddling, which was launched in 2009 and was a complete success from the beginning with all its information about canoeing and canoe tourism, is getting a new addition. The large canoe and kayak show under the World of Paddling heading will be accompanied by athletic events in the action pool in Hall 13.
Play and learn: trade fair hits for kids
The youngest boot visitors will have the most fun in Hall 14. A large play area awaits them in the Kids Active Corner, an action area with yawls, where the youngsters can get a taste of sailing while having fun. In the Maritime Classroom, students will learn about the ocean habitat from employees of the Düsseldorf Aqua Zoo.
In the new Watersports Arena, associations and clubs will present their range of services and show how to get involved in boating and watersports.
Really big: Classic Forum
The Classic Forum will make it big in Hall 15. The leadership of the Deutsche Museumwerft e.V. support association will present some 26 classic ships and replicas, maritime crafts and an extensive programme of lectures and films on the renovation, preservation, and history of old ships. Round the world sailor and Viking fan Burghard Pieske from Lübeck, Germany is expected as a celebrity guest with his Viking Saga.
Last but not least, the Messe Düsseldorf once again invites fans of maritime art to the Galeria boot Düsseldorf. Around 20 galleries and artists will present boot visitors with their work in Hall 7 in 2010.
boot 2010 offers all this and more to their international visitors between 23 and 31 January, daily from 10:00 AM to 6:00 PM. Day tickets cost 15.00 euro, a two-day ticket 23.00 euro. The catalogue for boot 2009 is available for 7.00 euro plus shipping. Tickets include a round trip with the Verkehrsverbund Rhein-Ruhr VRR public transportation. They are available in advance from Messe Düsseldorf and online at www.boot.de. If you would like to be kept informed about boot 2010 and its industry, the boot.de Internet portal keeps visitors and watersports fans up-to-date on everything important.
Editorial contact:
Pressereferat boot-Düsseldorf
Manuela Preinbergs
Phone: +49 211/ 45 60 - 542
Fax: +49 211/ 45 60-87-542
E-mail:
This email address is being protected from spambots. You need JavaScript enabled to view it.
www.boot.de
Save