The Cyklades Islands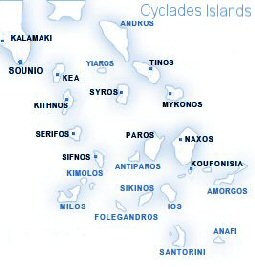 The Cyclades islands are maybe the most popular destination in the world. Cyclades are to offer abundant beauty and adventurous sailing holidays. Apart from Mykonos and Santorini islands (that everyone knows), there are many other Greek islands that belong to the same group. The charter bases that "serve" the Cyclades are Alimos (Kalamaki) marina and Lavrion port in Athens. The area is renowned for its clear water, sandy beaches and strong winds. Cyclades islands require moderate to advanced sailing competence and skills, rather good experience and offers all kinds of facilities and styles. Sunshine, dryness, rocky isles, white traditional houses and endless number of approaches / beaches are the rule. There are a lot of untouched and unspoiled islands that stand off the beaten track, where technical support for the yacht may fall short. In many islands, in the morning you can relax in a peaceful bay and the same night you can roister in a pub or music club.The Cyclades group, so named because the islands form a cycle around the sacred land of Delos.The proximity of the islands to one another permits a relaxed sailing schedule, allowing more time for sightseeing and shopping. Best known for their history, art, and civilization which dates back to the Bronze Age, the islands offer a stunning variety of scenic shores, unspoiled beaches, local handicrafts, entertainment, and diving.
For more information about the Cyklades Islands please refer to our Nautical Guide...
Save
Save
Save
Save
Save
Save
Save
Save
Save
Save
Save
Save
Save