The Sporades Islands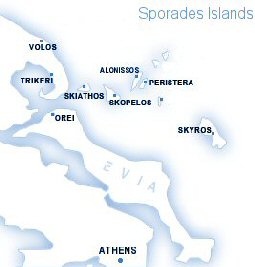 The Sporades islands placed in the Northwest side of the Aegean Sea is the sailing area that offers much beauty and an incredible number of wonderful beaches within a limited (is)land extend. The Sporades (their actual name is Northern Sporades) is not the ideal place to check archaeological sites but it is among the very few islands where yachts anchor in a bay and the charterers in the boat's cockpit enjoy the natural shade of the pine trees running down to the water. The charter base that "serves" the Sporades is in the marina of Skiathos island. Beautiful white sandy beaches, unspoiled anchorages, ancient ruins and abundant sea life, will offer you a sense of exploration and independence. So, let the beauty of the islands, forests, beaches, villages, churches and castles take you on a journey back in time. Skiathos airport, is an ideal starting point, for a journey to explore the Sporades and the coast of northern Greece.

For more information about the Sporades please refer to our Nautical Guide...
Save
Save
Save
Save
Save
Save
Save
Save