The Dodekanese Islands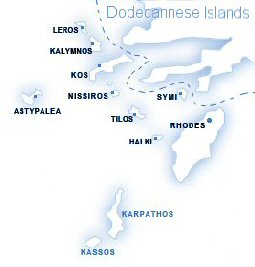 The Dodecanese islands are in their bigger part (Kos and Rhodos islands excepted) bare of vegetation although not to such extend as the Cyclades. The Dodecanese islands located at the Southeastern end of Greece are the warmest Greek sailing destination - good to visit even in early April or late October and November. The charter bases are set in the nice new marina of Kos island and in the old harbor of Mandraki in Rhodos. The prevailing winds are blowing from NW and they are less strong than in the open Aegean Sea. In spring and September winds are "traditionally" calmer from Southeast. The "character" of the islands is influenced partly from the Venetians and a lot by the Knights of St John and the middle Ages, though visually and culturally the Dodecanese remains purely Greek.The Dodecanese are located East of the Cyclades, West of the coast of Asia Minor, and North-East of Crete. It is an enchanted world, where the sun paints pictures and gives life. The mild winters and refreshing summers give the Dodecanese one of the healthiest climates in the Mediterranean. The islands of the Dodecanese are engaged in a beauty contest with no clear winner.These islands are a sailor's paradise of more than 163 islands and islets. You will find on each island uncounted beautiful beaches and bays that you should not miss.

For more information about the Dodekanese please refer to our Nautical Guide...
Save
Save
Save
Save
Save
Save